Top Content Title
This is an additional section to be able to add content
Ana Captured Silver at 2019 Canadian Championships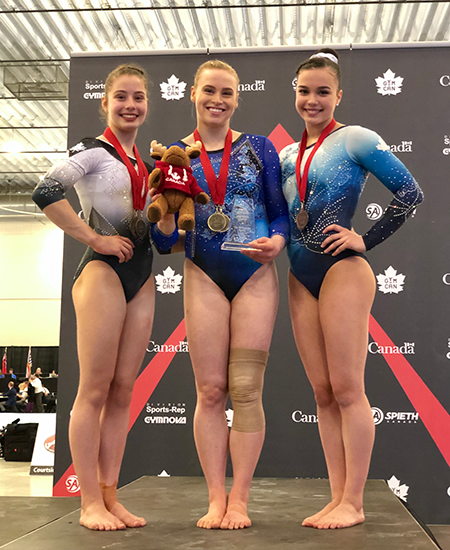 Ottawa, ON – Another successful championship for Ana.
Black was trailing Padurariu after the first day of competition after a fall on beam, but climbed to the top of the podium again after Padurariu had a fall on beam on day two.
"I was just excited to come out here and compete with the girls again, and to try out some new things, and see how everyone's been coming back and building and I think everyone did an amazing job," said Black who also captured the all-around title in 2013, 2014, 2015, 2017, and 2018. "This title means a lot, but every competition is different, and every competition is special. Right now we have a couple of great all-rounders, and some great depth in our team so it was really exciting to get out there and compete with them."
Black took the title with an overall score of 112.065, while Padurariu took silver with a total score of 110.799. Moors took bronze with a total score of 108.840.
In the second day of the junior competition, it was Rébéka Groulx of Quebec who captured the all-around title with a total score of 105.249 after dominating the competition by winning gold on every apparatus. Clara Raposo of Ontario took the silver with a total score of 99.116, while Okeri Katjiveri of Manitoba captured the bronze with a total score of 97.758.
The men's competition featured apparatus finals for all divisions. Félix Dolci of Laval, QC continued to dominate the 16-17 age category, winning gold on floor, rings, parallel bars, and high bar. He also took the silver medal on vault. Jayson Rampersad of Ontario took the gold on pommel horse, while Nathan Yvars of Quebec took gold on vault.
In the senior apparatus finals, newly crowned all-around champion Sam Zakutney of Ottawa garnered the most hardware, taking home gold on parallel bars and high bar, and silver on floor and vault. Zachary Clay of Chilliwack, BC took gold on pommel horse, William Émard of Laval took gold on floor, Chris Kaji of Toronto took the gold on rings, and Damien Cachia of Calgary took gold on vault.
These championships acted as a selection competition for a variety of competitions including the upcoming Junior World Championships set to take place in Hungary from June 27-30, and the Pan Am Games set for Lima at the end of July. Official announcements for both of those teams will be released in the coming weeks.
Source: Gymnastics Canada
Bottom Content Title
This is an additional section to be able to add content