WINTER BREAK CAMP 2018-2019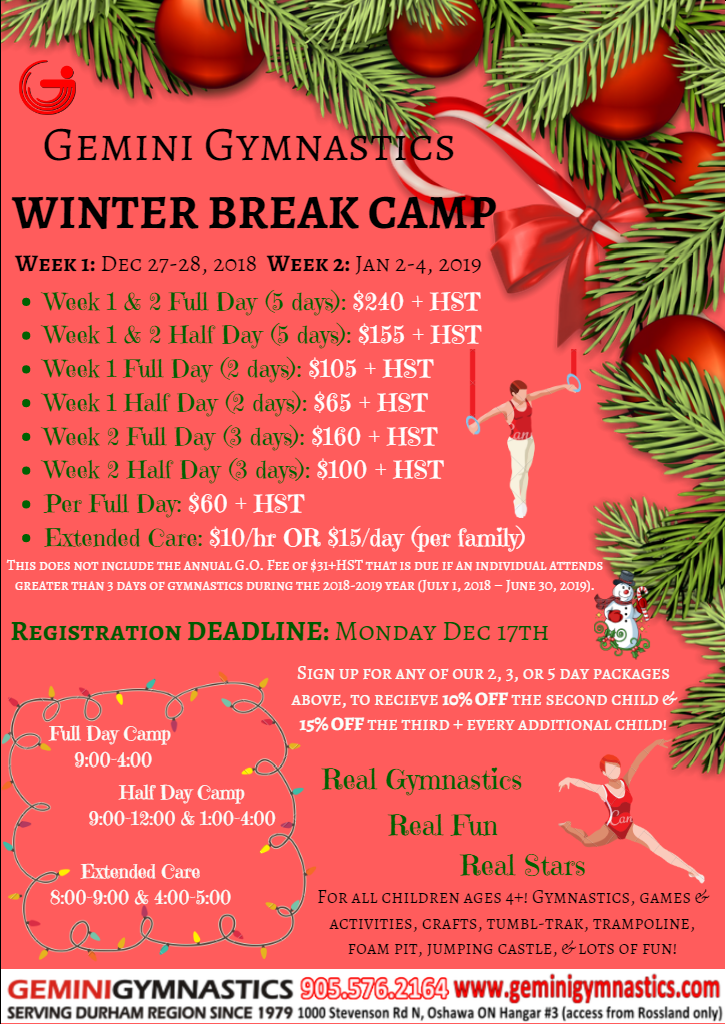 When You Arrive:
Sign your camper in at the table.
Parents remove their shoes in the front lobby and place them on the 'Parent Shoe Racks'.
Campers remove their shoes in the front lobby, carry them into the change room, and place them on the 'Athlete Shoe Racks' along the walls in the change room.
The first 2 change rooms are available for your use and they are both family friendly.
Children can leave their backpacks (including their lunch bags) on the benches (please do not hang heavy bags on the hooks).
They can hang their coats up on the hooks.
They can bring their water into the gym with them and place it on the 'water shelf'.
If you would like to stay after drop-off, or if you arrive early for pick-up, there is a waiting area upstairs with 3 large windows and a TV monitor pointed at the Rec side for your convenience (you can wear shoes upstairs, just not in the change room & gym area).
What to Bring:
Full Day Campers: pack 2 snacks and a lunch. Half Day Campers: pack 1 snack. (Gemini is PEANUT FREE).
Remember to pack lots of water and have it labeled with your child's name on it.
Send your camper with warm outdoor clothing, as we may go outside for some activities if weather permits!
Please leave all valuables at home; Gemini is not responsible for any lost or stolen items.
Other Information:
Full day camp runs from 9:00am-4:00pm. For half day camp, AM runs from 9:00am-12:00pm and PM runs from 1:00pm-4:00pm.
Extended care runs from 8:00am-9:00am and 4:00pm-5:00pm (pre-registered campers only!).
If dropped off early or picked up late, you will be charged a fee of $10+HST.
Please sign your camper in at the door upon your arrival and sign your camper out at pick-up.